About
Meet Technology Watch - Image Test Labs
One of the things that makes Technology Watch- Image Test Labs unique is that we pioneered new ways to measure and quantify color and image quality. In our research we encountered many product performance claims from vendors. Our position has always been, trust but verify the accuracy of these claims before reporting them. The best way to verify is to measure. However, we found that the tools designed for older imaging processes could not properly measure emerging imaging technologies. In order to achieve the degree of accuracy our readers expect, we had to invent new tools. The result is the products and services we now offer.
Our Business
Technology Watch – Image Test Labs is engaged in the discovery, development, licensing, manufacturing, marketing, distribution and sale of image and color measurement tools and services for use in industry and government. Our primary markets are the producers and users of printed and photographic images recorded on paper, film and other substrates. This includes the printing and publishing industry and the photographic and commercial imaging industry.
Products and Services
Today, nearly every major printing equipment manufacturer in the digital printing industry, domestic and international, uses our print measurement products and services, as do government agencies. We are now pleased to offer these products and services to you. Click here to purchase a test.
Our Team
Technology Watch ITL is comprised of three gifted award-winning scientists and engineers, specialists in digital imaging technologies and perception. Instead of resumes, we offer the following "Experience Rings" that represent our knowledge and education base in the imaging field.
Collective Knowledge Placing Us at the Top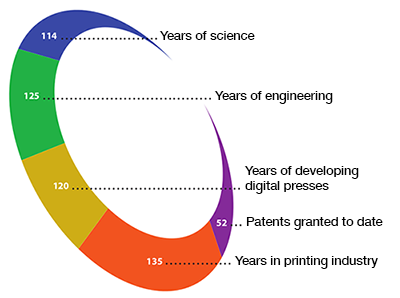 Knowledge Sharing and Learning