Testimonials
Copy General, a Digital Printing Pioneer, Uses ITL for Testing Both Dry Toner and Liquid Toner Presses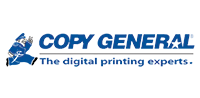 Ahead of the curve, Copy General is a very early adopter of digital printing. Xerox worked with CopyGeneral for the testing and roll out of their iGen3 family of products. A well-run business with a success record to match, Copy General President, Ken Chaletzky, shares his feedback on Image Test Labs:
"This is the first tool I've seen that provides a really objective report on a specific press. For people who want to see how their presses are performing qualitatively, this is it. And, if I were buying a press, I would want to see one of these. It's like a CarFax report for presses.
"I wanted to let you know how helpful ITL's Image GraderTM has been for us. We have used it several times to compare the performance of our Xerox iGen 150 press with our Indigo 7500. In addition, ITL has stored our original iGen3 press data and can compare these going forward in any future scenario. This gives us valuable information to help understand how we stack up and helps us manage our press performance. We also see great value in using ITL Image GraderTM before buying future equipment. As I have mentioned before, I see ITL Image GraderTM as sort of the CarFax for press buyers..."
Kenneth B. Chaletzky, President & CEO, Copy General