Testimonials
NewPage Research and Development Evaluates Papers and Presses with Image Test Labs Image Grader
TM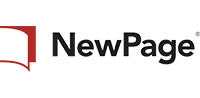 NewPage is an industry leading paper manufacturer of both offset and digital printing papers that work well with a wide variety of printing processes including offset, toner and inkjet presses. Jim Niemiec, Senior Manager Product Development, explains how the company uses Image Test Labs products:
"NewPage Research and Development is using Image Test Labs Image GraderTM system in the evaluation of various commercial and developmental paper samples.
"Our experience has been that the uniquely numbered test files drop into digital front ends and workflows very easily. The system can be applied to the vast array of toner and inkjet hardware technology platforms which are of interest to our company for commercial benchmarking as well as new product development.
"The tests can be run very quickly and the grading is done by a neutral third party which provides valuable and objective feedback for R&D as well as marketing purposes."
J.P. Niemiec, Senior Manager-Product Development, Fine Papers and Digital Printing